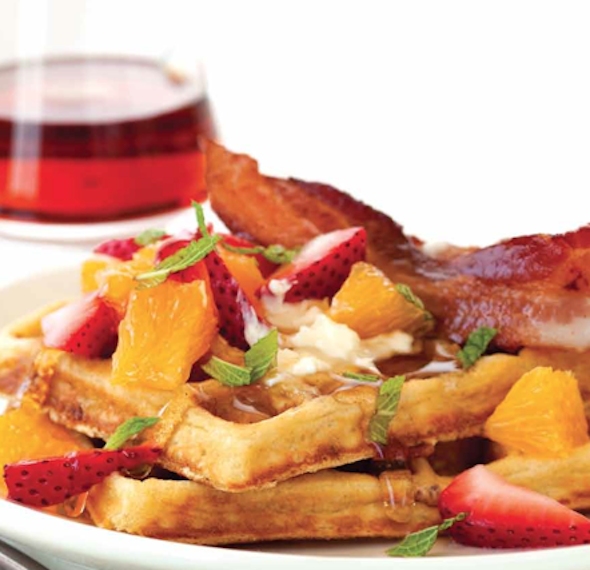 17 Mar

Bacon Waffles with Fresh Fruit and Cinnamon-Maple Syrup
Bacon Waffles with Fresh Fruit and Cinnamon-Maple Syrup
Fruit Salad 4 oranges, peeled, seeded and cut into bite-size pieces 1 lb. strawberries, cleaned and sliced 1⁄4 c. fresh orange juice Syrup 1 c. pure maple syrup 11⁄4 tsp. ground cinnamon Waffles 1 cup unbleached all-purpose flour 1 teaspoon baking powder 1⁄2 tsp. baking soda 1⁄2 tsp. salt 11⁄2 c. buttermilk, any fat content 2 large eggs 3 tbsp. unsalted butter, melted 2 tbsp. pure maple syrup 4 slices crisply cooked bacon, crumbled Garnish Fresh mint leaves 8 slices cooked bacon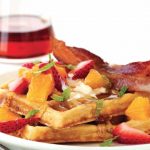 Instructions
For the fruit salad: In a medium bowl, stir together all ingredients. Cover and refrigerate up to 8 hours.

For the syrup: In a small saucepan over low heat, warm syrup and cinnamon, stirring frequently to blend. Keep warm over low heat while preparing waffles.

For the waffles: Preheat oven to 275°F. Sift flour, baking powder, baking soda and salt into a large bowl. In a medium bowl, whisk buttermilk, eggs, butter and syrup to combine; a few bits of melted butter may be firm. Make a well in center of flour mixture, pour in buttermilk mixture, and use a large spoon to combine. There may be a few small lumps. Stir in crumbled bacon.

Spray a waffle iron with cooking oil spray or brush lightly with oil. Preheat according to manufacturer's directions.

Pour batter (a generous 3⁄4 cup for each pair of waffles) evenly onto hot waffle iron. Cook about 3 minutes, until waffles are browned and, when waffle iron top is lifted, waffles release easily. Any steam coming from waffle iron will subside when waffles are done. Repeat to make 8 waffles. Uncovered waffles can be kept warm on a baking sheet in oven while remaining waffles cook.

Arrange waffles on 4 plates. Divide fruit salad among plates, add several mint leaves, and arrange 2 strips bacon over each serving. Serve with warm syrup.

Mix it Up • Substitute 1/2 cup chopped pecans, chopped walnuts or toasted almonds for the crumbled bacon. • Add 1⁄2 teaspoon cinnamon to the waffle batter for an unexpected flavor. • Tired of maple syrup? Try vanilla or cinnamon whipped cream.